Steel Fencing Mesh Panels
Hot Dipped Galva. Field Fence Exported to Oman
Field fence:
Height 120cm, number of horizontal wires: 7, distance between the horizontal wires: all the same : 20cm; wires 3mm ( top, bottom, middle and vertical); tensile strength min 600N/mm²; surface: galvanised;
the connecting knots between the wires are either a fixed knot, ringlock, or square deal.
Hot Dip Galvanise Steel Palisade Fence Exported to Qatar
W pales 3mm thick x 70mm wide x triple head; rails 50x50x6 mm; posts 102x44x7.44 kg / m, post spacing 2.75 m; fish plates; M8 X 30 mm bolts with security nuts for pales to rails fixing; M12 X 40 mm cup square bolts with security nuts for rails to fish plate fixing; extension arms 60x60x6mm in V type barb arm, for pvc coated gi barbed wire.
Barbed Wire Fence System Projects
PVC coated GI fence Barbed wire
PVC coated GI fence wire 1.6/2.5mm 1" x 1" x 5 x 30- dark green color,GI fence wire 1.6mm 1" x 1" x 5 x30,GI fence wire 1.8mm 2" x 2" x 5 x 70,pvc coated GI fence wire 1.6/2.5mm 2" x 2" x 5 x 50- dark green color,GI barbed wire 2.5/2.0mm x 100m roll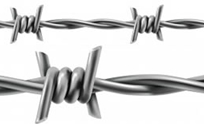 Stainless Steel Barbed Wire manufactured from SS wire conforming to ISO 280
The barbed wire shall be formed by twisting together two-line wires, one or both containing the barbs. The direction of twisting may be in one direction or alternately in left or right directions, Barb Length:>13 and <18
Distance between two barbs: 75 ± 12 mm, Twist type:Single,twist,Traditional twist
High Security Chain Link Fencing
The length of the fence is 6900m X 2.8m high with 3 strands of barbed wire at top. The fence has to meet wind load requirements as well as corrosion specifications. There are 7 gates within the fencing.At top barbed wire roll,hot dip galvanized,diameter: 900mm,core (central wire): 2.4 mm,blade (L / l): 22 mm / 15 mm,spacing: 34 mm, spiers: 56, Roll length: 10m.