High Security Chain Link Fencing
Puma is an experienced manufacture supplier for large security fencing contractor, distributors and wholesalers with full range wire mesh fencing products. One typical High Security Fencing system model is Chainlink GI Mesh Panel and Barbed Wires.
We supply Anti climb chain link fencing topped with concertina razor cross barbed wire, as High Security Fence for Power Generation Plant, Mining, Petrochemicals, Oil & Gas, Farms, Cements Plants, and other spaces needing high level protection barrier.
Well Sold Chain Link Fencing Models
High Security Chain Link Fencing - Farms and factories boundary fence
Fence 2.8m high with razor barbed wire at top.
Galvanized razor wire
Galvanized steel posts
The fence panels can meet wind load requirements as well as corrosion protection requirements.
Steel gates installed within the fencing.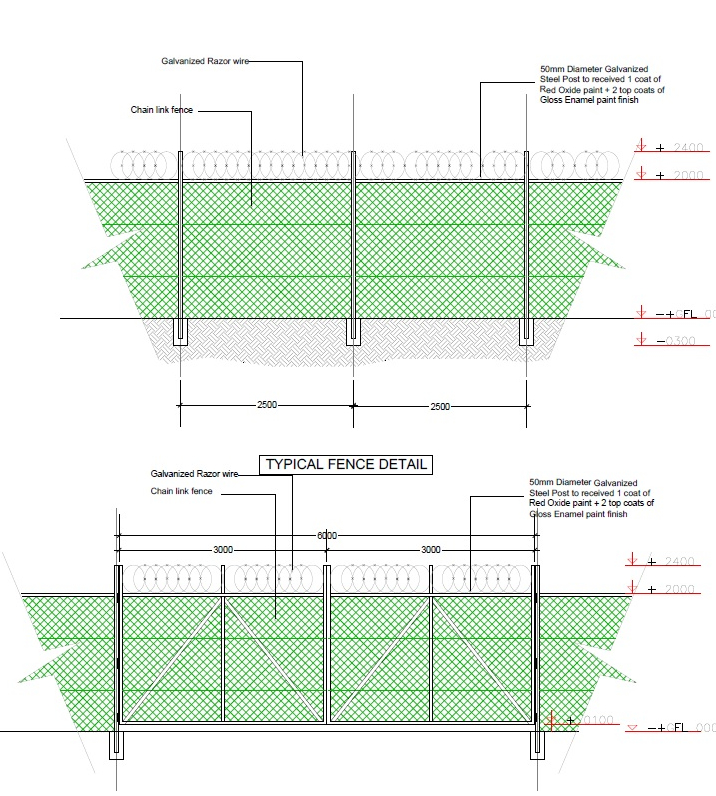 Hot Dipped Galvanized Chain Link Fencing - High Security GI Fence
Perimeter Fence, 2 m high, installed with barbed wire on top,
Barbed wire and v arm supports off fence to attach the barbed wire to the fence rails.
Supplied with Fencing Gates.
Oman Fencing Project:
Y angle Hot Dip Galvanized post
Size 60 x 60 x 6mm with verticalm height of 0.5mm x 0.5mm
Galvanized Barbed wire
Size 2.5/ 2mm
Galvanized coiled wire blade with 980 running meter
To be fixed on burbed wire.

7 rows GI barbed wire and coiled barbed wire 2.5/3mm, fixed with 50x50x6mm hot dip galvanized steel Y angle
High Security Chain-link Perimeter Fencing
For Quatar Fencing Projects
Mesh Fence, concertina wire, razor, crossed type, for permieter fence
Specifications:
Concertina razor cross type barbed wire
Blade: cbt-65
Wire diameter: 2.5 mm
Outside diameter: 60 cm
Chain Link Fence, H 2.4m, 50x50mm x 4.7mm
Barbed wire 2.5mm, Barbed length :20mm Double strand
Finish: Galvanized and Powder coated green RAL6005, 4 points barbs at every 75mm