GALVANIZED STEEL DIAMOND MESH CHAIN LINK FENCING
For security perimeter or temporary control fencing uses. A type of high tensile flexible diamond mesh fencing, woven with spiral wire links. Finishes are galvanised, powder coating galvanised, and hot dip galvanized. Mesh Opening: Diamond or Rhombus.

Mainly used as:
Bbasketball playground fence;
Garden fencing;
Highway fences;
Railway fences;
Airport fence;
Residence fence;
Pool fence;
Various sites control barrier;
Temporary fencing.
Well Sold Diamond Mesh Fencing Models for Export
Variety: Galvanized mesh, plastic coated galvanized mesh and aluminumized steel mesh.
Popular Sizes for Export ( in Rolls, galvanized steel fence without powder coating)
1.8mm wire ×50mm ×50mm ×1×15m
1.8mm wire ×50mm ×50mm×1.8×15m
2mm wire × 50mm ×50mm ×1×15m
2mm wire ×50mm ×50mm ×1.8×15m
2.7mm ×50mm ×50mm ×1×15m
2.7mm ×50mm ×50mm ×1.8×15m
Plastic and Vinyl Coated Dimond Mesh Chain Link Fence
Colors available: Green and black coating as most popular. Biege, white or other colors at customers request.
Powder coated steel mesh is suitable for the yards, parks, zoos, pool security fencing, industrial zones.

Green PVC Coated Galvanised Mesh Holes 50x50mm with Barbed Wire PVC Coated Galvanised and Razor Tape Concertina Coils system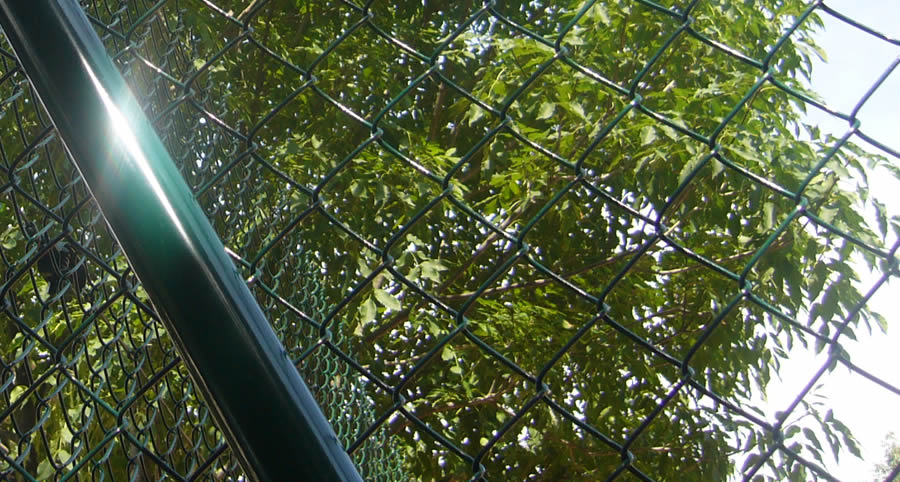 PVC coated steel mesh fence, mesh opening 2"x2", wire diameter 2.76mm, galvanised pvc coating in green, at 2.4 metre height
Black (Vinyl Coated) Chain Link Mesh makes ideal outdoor swimming pool fence panels. The vinyl coating adds more protection for the fence fabric from sunlight, acid water and other outdoor factors.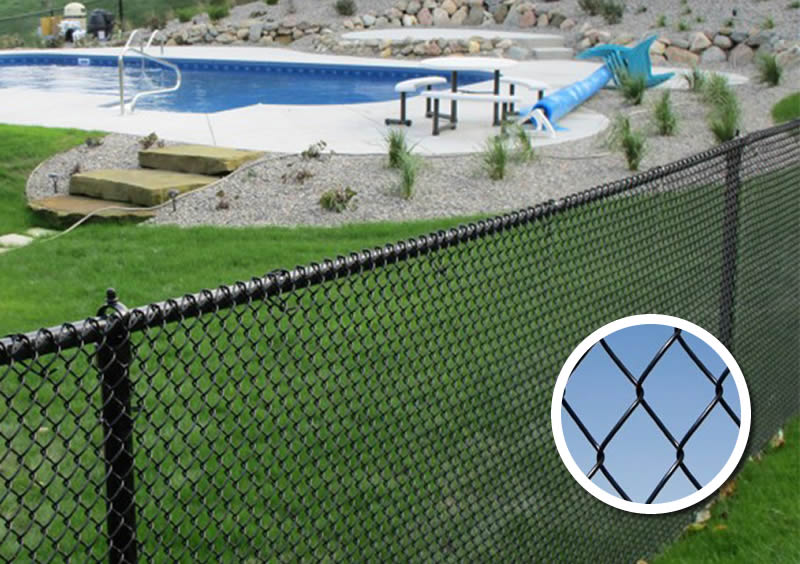 Portable Fence for Swimming Pool Safety, with Gate, Diamond Mesh 50x50x2.5mmx1.8mm, Black Powder Coating against Corrosion and Sunlight
Aluminized Steel Fence
A kind of aluminum powder coated steel fence. The aluminized steel mesh fence offers an option with less cost in commercial uses compared real aluminum. It also has the aluminum shine surface to enjoy almost all the features of the real Aluminum fences.

Aluminum Coated Steel Mesh, Chain Link rhombic mesh type, 10mm x 10mm, the wire is coated with aluminum to produce a smooth and uniform coating. The weight of aluminum coating, wire sizes with allowable variances, and wire breaking strength, conform to ASTM A 817.

Hot Dip Galvanized Steel Fence
Material: Mild steel wire
Common Coating: Electro Galvanized Chain Link Wire Mesh has a 7-15G per Square Meter Zinc Coating;
Hot Dipped Galvanized: 35-400G per Square Meter Zinc Coating
Hot dipped fence chain link mesh consume much quantity of zinc and cost higher than galvanized steel chain links.



Fence Panels, 50mm mesh x 9 gauge galvanized, hot dipped iron wire, with Galvanized Barb Wire Straight Line and Galvanized Concertina Razor Wire
Electro Galvanized Boundary Protective Fence for Saudi Arabia and Other Markets
Materials
Galvanized Chain link fence
Opening : 40mmx40mm
Wire dimeter : 5mm
Length of the roll : 50m
Width of the roll : 2m

Galvanized Barbed Wire ( Lines)
Wire dimeter : 5mm or 4mm
Length of the wire : 505m

Galvanized Razor Barbed Wire
Wire dimeter : 4mm or 5mm
Length of the roll : 500m
Purpose: Border protection and safety fencing

Galvanized Chainlink Fence: 40x40mm Mesh, 5mm Wire Galvanized
Chain Link Security Fencing Projects
Non Climb Razor Wire Fence Wall for American and African Markets
Airport and Other Premises Security Fencing: Chain Link, 300ft length all four corners, at 8ft high.
With Optional Standard chain link gate, 15ft length, 8ft high
Galvanized concertina razor wire (American Barbwire), heavy galvanized steel roll, at top of fencing
Razor Wire & Fence Details

Material
Galvanized chain link fence, hot dipped iron wire 1.8mmx50mmx1.5mx25mx32kg
- Multi post hot dipped diam: 48mm, 2m, 3.8kg
- Stainless Steel clips
- Support post
- Two bolts connector, hot dipped

Razor Wire (Military grade)
The distance between each loop of razor wire should be 20cm.
Barbed wire shall be twisted pair of No. 12 gauge aluminum coated wire with a 4 point .
Pattern No. 14 gauge wire barbs on 900mm diameter wire.
Tie wires shall be No.9 gauge soft annealed aluminum coated steel.
Razor wire should be equipped with 2 Inch Angle iron stanchions for fixing razor wire, 2.5m length with one pointed end.
Perimeter Fence: Chain Link Galvanized Mesh, 50mm mesh x 9 gauge wire.
Layouts and notes of the installation include:
1. Installation of 18" coiled razor ribbon installed atop of New 3-strand (4-point) barb wire.
2. Chain link fabric to be 1-1/4" non-climb material.
3. All fence posts and rails to be ss-40 weight pipe.
4. Gates to utilize industrial 180 degree gate hinges and pad lockable drop rods.
5. Fencing Atop existing CMU walls to be saddle mounted.

Fencing Acessories

Chain Link Gates: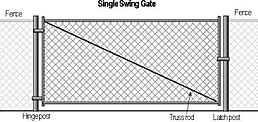 Single swing gate can be made with a larger opening. It is open only by ensuring there is enough space.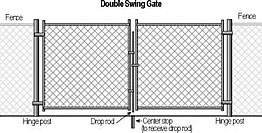 Double swing gate can be automated.
Two Swings and a down pole connected to close the gate.

Cantilever Chain link Mesh Gate:
This gate can also be made with automated open.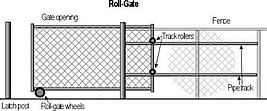 Cantilever Gate with a roller:
Rolling on the ground, connected to a rail fence. These doors do not automatically open, you need enough space to rollback.
Fencing Wire Ties, Hook Ties

Size: 9 and 11 Gauge Wire, 6 1/2" long or custom size

Aluminized Steel Tie Wire for Fence Fabric Fastening and Fixing, 9 Gauge

Chain Link Wire Mesh Sizes:

Mesh ( Diamond Hole)

1"

1.5"

2"

2.25"

2.4"

2.5"

3"

4"

25 mm

40 mm

50 mm

55 mm

60 mm

65 mm

76 mm

100 mm

Wire Diameter

Wire Gauge 18#-7#

1.20mm-5.00mm

Roll Length

1.0m-50m

Roll Width

0.5m-5.0m

Materials and specifications can be made according to customers specific requirements.
Related Products
Tenison Wire for Securing the Fencing Structures

Razor Barb Wire for Security Fencing Toppings
Metal Steel Posts, mainly Y posts.