PVC COATED & ELECTRO GALVANIZED WELDED MESH FENCES
Puma offers Welded Mesh Steel Fencing products for worldwide importers / wholesalers / distributors with consistant quality products and services. Electro Welded Wire Mesh is widely used in fencing project development for transport and the civil infrastructure.

Applications:

Country Border Protective Fence;
Anti Climb Fence;
High Security Fence;
Garden Fence / Residential Area Fence.
Finishes
Electro-Welded Wire Mesh
Galvanized Plasting Coated Welded Wire Mesh
Galvanized Wire Mesh, Electro Weld, Hot Dip Galvanized
Well Sold Weld Mesh Models
Electro-Welded Wire Mesh, PVC Coated
Galv. / PVC Coated, Electro Welded Mesh Panels, 50x50mm, for Outdoor Security Fencing Uses
With Roll of Razor Wire, Coil Top 3.55mm
Galvanized Plasting Coated Wire Mesh
Hole size: 50 x 50 mm, square hole
(50 x 50mm) OD 4.75mm & 2.5 m Height

Accessories:
Corner Posts
(114.3mm OD x 6.02mm Wall Thickness x 32 Mtr. Long, Galv. + PVC Coated)
With all accessories.
Tension Wire, Tie Wire & Hog Ring Wire
Galv / PVC Coated, With Accessories,
Tension Wire Connection, Clamp Etc.
Tension Wire 2mm Diameter
PVC Bonded Green (300 Mtr/Roll)
Tension Wire 3.2mm Diameter
PVC Extruded Green (300 Mtr/Roll)
Galvanized Welded Mesh Panels with V Bends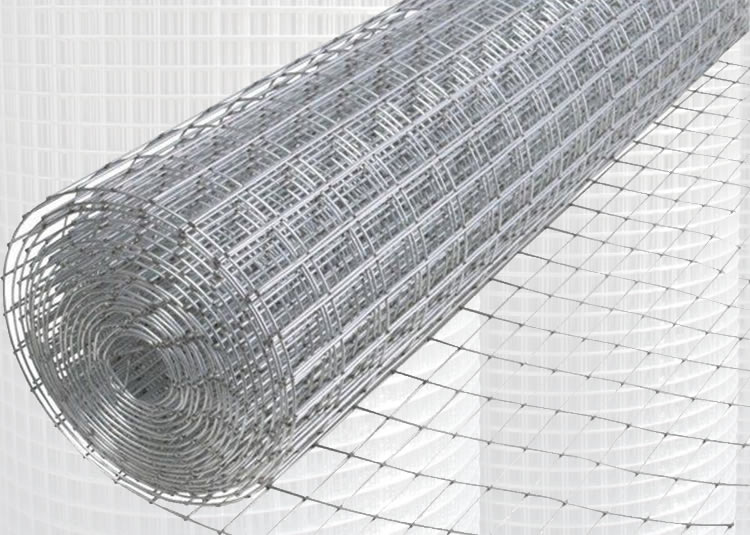 Welded Mesh Panel, Size -2667 mm X 955 mm, 76.2 mm X 12.7 mm Mesh

Description:

Mesh Size: 76.2 mm X 12.7 mm

No of "V" Bends: 02 V Bends

Mesh wire: Galvanized MS wire

Horizontal wire and vertical wire dia -: 4 mm

Tensile strength: 350-550 N/ sq.mm

Galvanising of Wire -: 40-50 GSM

Weight per Panel: 24.3 kgs
Galvanised Welded Mesh Border Fencing Projects
Border Protective Segment Fence
Typical Protective Segment Fence made of welded net of mesh size 50 × 200 mm, round bar diameter about 5 mm. Metal parts must be hot-galvanized, thickness non-less than 80 microns. Pillars - 60 × 40 × 3 mm installed to earth of at least 800 mm, on the slope - not less than 1 meter. Nuts should be such that it cannot be unscrewed. Segment fences (segment height of not less than 1.95 m) peak is Y-shaped on which razor wire should be installed, which would be supported by galvanized tension wire (3 pcs.). Y head should be adapted to the razor wire. Razor wire cylinder diameter of not less than 700 mm and not less than 600 mm when stretched. The fence must be at least 2.60 m height.

Equipped with gates and wickets.
Gates must be stable, with a frame, adapted to segmental protective fence and installed in such a way as to ensure the stability of a solid fence.
Gate frame must be made of pipe dimensions non-smaller than 60x40x2mm. gate post dimensions non-smaller than 100x100x3mm with Y-shaped tops.
Wicket frame must be made of pipe dimensions non-smaller than 60x40x2mm. wicket post dimensions non-smaller than 60x60x3mm with Y-shaped tops.
Gate and wicket posts must have a guard for lock from rain/snow and holder loops for lock.
Gates must be locked by special locks. Gate width will be about 5 m and small gate about 1 m. At the top gates also has to have razor wire.
All doors and gates must be locked with the same key.

PDF Drawing Reference Files:
Border Protection Weld Mesh Panels, Y Support Tops, Razor Wire and Ground Foundation
PDF : how segments should be fixed to posts.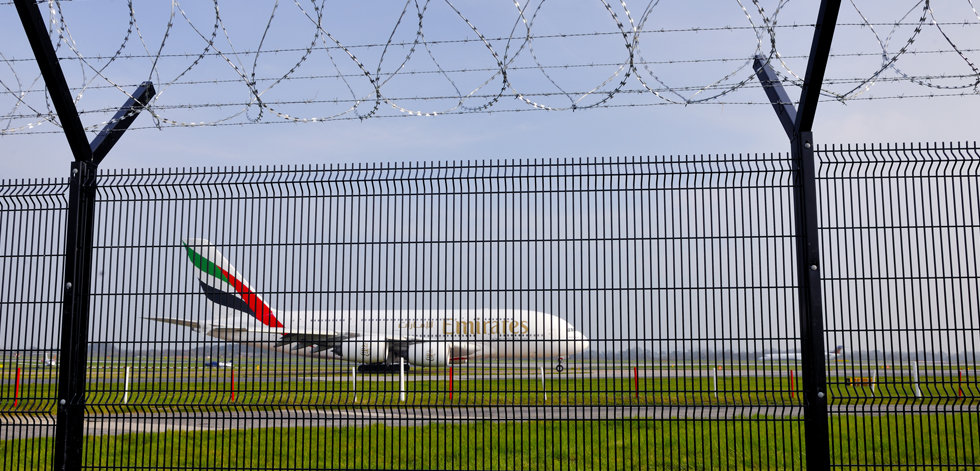 Welded Net Segment Fencing Panels, Mesh size 50 × 200 mm, Galvanized Finish
High Security Anti Climb Electro Welded Mesh Panel with Razor Mesh Fence and Sliding Gate
Security Fencing Projects in Singapore. Security Fencing and Sliding gate.

Weld Mesh Fence Finish: Hot Dip Galvanized
The Razor mesh is in SS316, or Hot Dip Galvanized.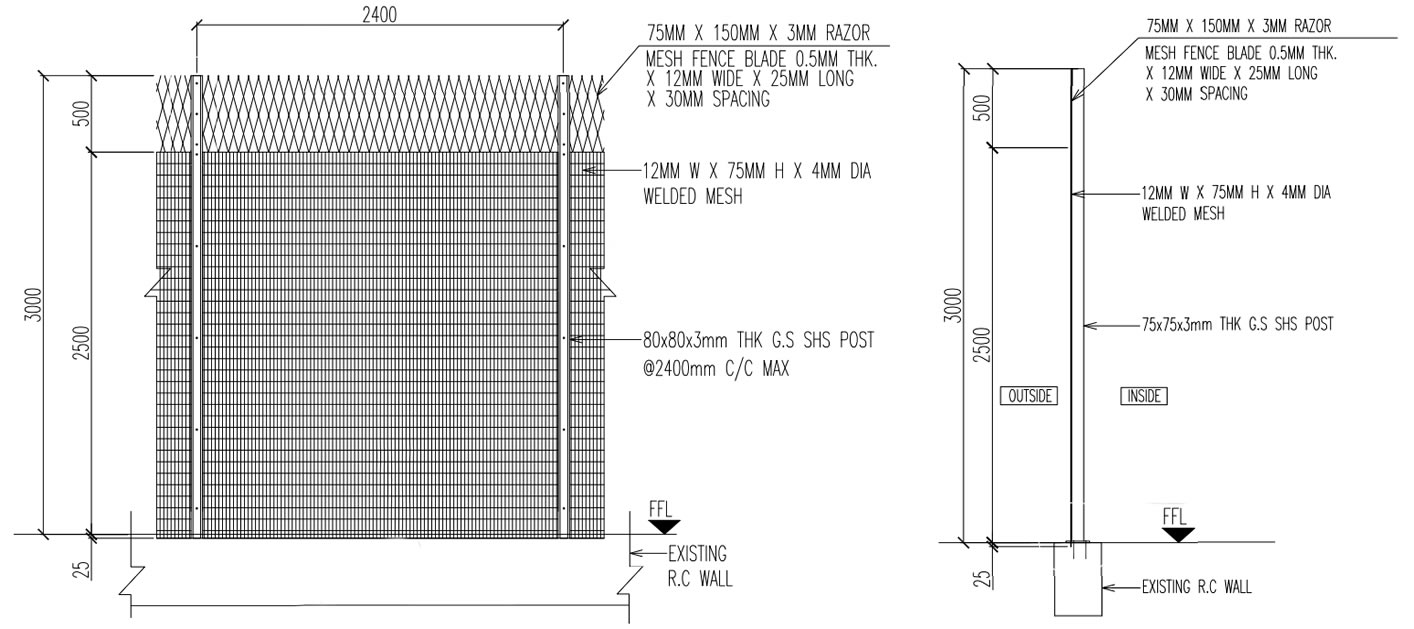 Fence Panels of Galv. Wire Mesh, Electrically Fusion Welded, in Mesh 12mm width x 75 mm hight x 4 mm wire diameter, with Anti Climbing Razor Mesh Welded Fence Tops
Welded Blade Razor Mesh in Diamond Opening, 75mm x 150 mm x 3 mm, Blade 0.5mm Thickness x 12 mm Width x 25 mm Long x 30 mm Spacing
Triangular Bending Residential Fence
Components: Standard Q195 or Q235 Low Carbon Steel Wire,Welded Pipe, pillars, etc.
Structure: Shaped by hydraulic pressure with welded high-strengthed cool-drawn low carbon steel wire and fixed with joint accessories and steel pipe pillars.
Triangle Bended Fences are widely used for the decoration for the residential area or the road beautiful isolation andgarden, feeding, husbandry, hotel, supper market, place of entertainment and so on.
Wire Dia: 3mm, 4mm, 5mm,etc
Surface: PVC coated & galvanized
Colour: Green, yellow,white, etc
Mesh: 50*100, 50*200, 55*100, 55*200mm, etc
Mesh Style: Electro-welded.
Fence panel height 0.63-2.33m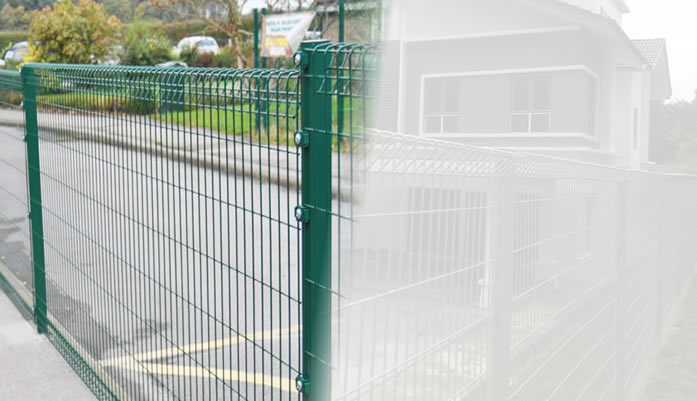 3D Curvy Welded Wire Mesh Euro Style Garden Fencing Panels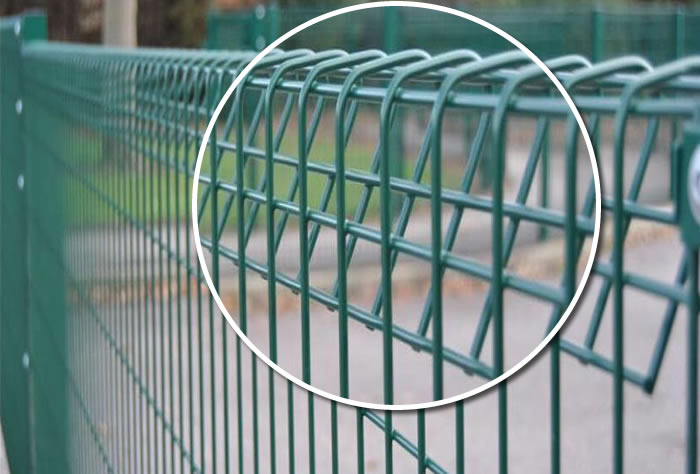 Double loop welded mesh panels, green pvc mesh, euro style, for backyards garden borders
Material: Q235 high quality low carbon steel wire
Wire Diameter: 2.5 mm - 6.0 mm
Aperture: 50 mm X 100 mm, 60 mmx120mm, 75 mmx150mm, 80x160mm, 50X200mm, 55mmx200mm.
Post Style: Round column, square column
Surface: Plastic spraying, PVC coated, galvanized +PVC, powder coated
Color: Green, black or as your requirement.
Accessories: Rain hat, clip, bolt, chassis
Panel heigh: 1225 or 1525 mm
Panel lengh: 2500 or 3000 mm
Wire diameter: 4mm and 5mm
Folds number: 2 or 3

Fence Panels:
Panel height

Panel Length
     Wire Diameter
Mesh Size
Folds No.
0.63m
2.0m,2.5m,3.0m
    

Gal + Powder Painted
3.85mm/4.0mm
4.85mm/5.0mm

Gal + PVC Coated
3.0mm/4.0mm
4.0mm/5.0mm

  50*200mm 55*200mm  
2
1.03m
2
1.23m
2
1.5m
3
1.53m
3
1.7m
3
1.73m
3
1.8m
4
1.83m
4
2.0m
4
2.03m
4
2.43m
4
Related Products
Razor wire, concertina tapes, barbed wire, Y arms.