Hot Dip Galvanized Steel Field Fence (Farm Fencing Wire)
High Tensile Field Fences are made of hot-dipped zinc coated steel wire woven in knots. Knotted Wire Mesh Net ( Hinge Knot, Fixed Knot or Square Knot Style ) makes ideal field fencing solutions. Widely used for grasslands husbandry, farm fencing and ranch barrier. The Knotted Wire Netting provides maximum-tight safety fencing against fierce striking of cattle, horse or goats.

Why?
Knots Woven Farm Fences Hot Dipped Galvanized Wire Mesh offers good flexibility, good pressure resistance, corrosion resistance and weather resistance.
Welded wire fences have welding spots which get easily broken. Knotted netting fences enjoy better properties than Welded Mesh Fences. The knot fixed or hinged woven mesh fences are firm forever once installed. Even the cut pieces will not deform under pressure. Hence, Knot Mesh Field Fences make the best materials for protecting grassland, forestry, highway and environments.
Well Sold Knotted Mesh Product Models
Model - Hinge Joint Knot Mesh Net
Hinge joint steel mesh rolls or panels are ideal fencing materials for ranchers in protecting the jumping animals like deers, horses and cows, sheep and goats. The hinge-knot system ensures proper stretching and allows for easier installation over hilly or rough terrain. The heavy zinc coating of the wire offers the finished fencing good rust resisting and corrosion.

Common hinged joint fencing is made from galvanized wire with a wire diameter of 2.5 mm and the top and bottom wire are made with wire diameter of 2.8 mm. Fence height is normally from 0.8m to 2m.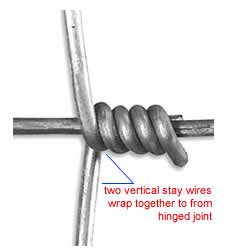 Hot dipped galva. field fence, height of fence -2 m ; Cell dimension 5 cm x 10 cm ; Wire diameter - 2,5 mm, exported to Russia
Model - Fixed Knot Woven Wire Mesh
Fixed knot mesh fabric is formed with continuous vertical and horizontal wire, wrapped in a fixed knot with a third wire. It provides the strength and rigidity as well as the safety necessary for the animal fencing uses.
Fixed knot fence is a style in contrast with the familiar hinge joint knot while the former has stronger wire fabrics and can be installed quickly with fewer fence posts. This means that fixed knots brings reduced cost and less maintenance compared with other wire structures. Fixed knot fence are mainly used in the farm and pastures for animal fencing including deer fences and horse fences. In regard to the surface treatment, fixed knot fence is available in heavy coated galvanized for a long service life. A green plastic coating finish available to harmonize with the surroundings.


Model - S Knot Wire Mesh
Square Deal Knot Mesh Fence (simplified as S knot mesh) has s-shaped knots to form a tough & sturdy structure that stands up to impact from large animals without buckling or sagging. It is a type of anti climbing fence, suitable for goat, sheep and cattle farms. The S knot is made with a separate piece of wire to attach the line wire to the solid stay wire.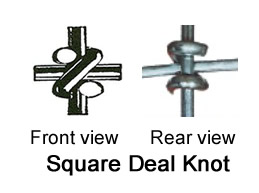 Material:
a) Electro galvanized iron wire
b) Hot dipped galvanized wire
c) High Tensile steel wire
Wire Gauge:1.9-3.5mm
Edge wire diameter:1.8-2.5mm
Horizontal wire diameter:2.0-3.5mm
Vertical hole size:15cm (5-60cm)
Aperture:89-203mm
Hight size:0.85-2.4m
Length: 10-300m
Zinc coated: general 60-100g/m2 and high zinc coating 230g/m2.
Specifications of Hot Dip Galvanized Knotted Wire Mesh Fence for Farming
Fence 
Design
Height
Vertical 
Stay 
Spacing
Roll 
Length
Top 
& Bottom 
Wire Dia. 
(SWG)
Filler 
Wire 
Dia. 
(SWG)
Roll 
Weight
Finished
8 / 32 / 6
32"
6"
330'
10 gauge
12.5 gauge
147 lbs
Electro 
or 
hot-dipped 
galvanized 
9 / 39 / 6
39"
6"
330'
10 gauge
12.5 gauge
170 lbs
10 / 47 / 6
47"
6"
330'
10 gauge
12.5 gauge
194 lbs
9 / 39 / 12
39"
12"
330'
10 gauge
12.5 gauge
130 bs
10 / 47 / 12
47"
12"
330'
10 gauge
12.5 gauge
147 lbs
9/39/6
39"
6"
330'
9 gauge
11 gauge
246 lbs
10 / 47 / 6
47"
6"
330'
9 gauge
11 gauge
280 lbs
10 / 47 / 12
47"
12"
330'
9 gauge
11 gauge
209 lbs
10 / 47 / 6
47"
6"
330'
9 gauge
9 gauge
417 lbs
10 / 47 / 12
47"
12"
330'
9 gauge
9 gauge
311 lbs
Field Fencing Projects
Horse Fencing


9 Gauge wire strand, 48-in. (1200-mm) high field fence, used for horse, cattle and deer farming fence, hot dip galvanized steel mesh fencing with graduated opening nets
Deer Fencing / Game Fencing

Deer Farm Fencing Wire 14-200-15, Roll Length 100m, Double edge wire with reinforced strand edge wire, Hinge joint mesh structure, catering lower stock pressure applications such as deer, sheep, lamb, goat fencing uses.

Features:
Twisted edge wire enables the fence with more tension strength.
The tension curves to line wires makes the fence more elastic and pressue resistant, it allows any impact load on the fence to spread along the line and stay wire.
Hinge knot fence wire prevents the deformation when animals lean on it.

Installtion: Farming wire field fence can be installed with stakes, wood timber or other posts.
Knot Mesh Ranch Fencing with Barbed Wire Lines, for Increased Perimeter Safety

Ranch Perimeter Fencing: Hinged Knotted Mesh Fabric with Hot Dip Galvanizing Finish, Wooden Post, Two Lines of Double Strand Barbed Wire

Barbed wire is installed with posts directly, or installed with field fence and Y Post/T Post/Star Picket on grassland.
Main Market:
Australia, New Zealand, Peru, Russia, North America and Africa.
Related Products
Barbed wire galvanised or pvc coated, tension wire, poles.