Machines for Barbed Wire Fabricating and Plants
Puma is a Supplier and Exporter of various Barb Wire Plant and Machinery to African, South American and Asian Countries. We provide export and services for setting up Barb Wire Fencing Plant to produce Normal, Single, Double Twisted Barb Wire.
The machine is of horizontal design, consisting of two parts, assembled together at the middle. It is safe and reliable in operation, capable of turning out high quality products with consistency.

Well Sold Product Models for Export
Automatic Barbed Wire Machines Model DTBWM(Manufacturing Double Twist Barbed Wire)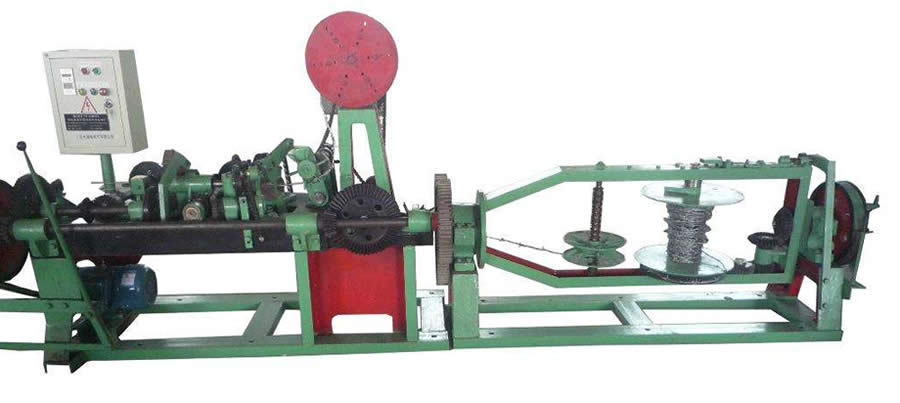 Plant and Machinery Manufacturing Double Twist Typed Barb Wire, Export for Chile , Sri Lanka and Etc.
Machinery for Galvanised Double Twisted Babed Wire, Model BWMFZ253 and BWMFZ1628
Barbed wire machine with required details:
Technical Specifications
Model

BWMFZ253

BWMFZ1628

Diameter of Line wire

2.5-3mm

1.6-2.8mm

Diameter of Barb's wire

2-2.5mm

1.6-2.2mm

Barbs' spacing

3,4,5,6 in.

4,5 in.

Material(Line wire & barb wire)

Low carbon , hot dip galvanized steel wire

Total weight

1500kg

1100kg

Power

3kw

2.2kw
Barb Wire Twisting Machine Export to Mexico

Production Line for manufacturing high tensile barbed wire
Machinery specification:
Volt: 220V - 440V
Wire diameter: CAL. 12, CAL. 13, CAL. 15.
Strand 1.72 mm, barbed 1.5 mm, pitch 5" and Other Sizes
Reverse Twist Typed Barb Wire Machine
Requirements for the machine are listed below as:
Number of strand wires: 2
Strand wire diameter mm : 1.70 – 2.50
Number of barb wires : 2
Distance between barbs cm : 75 -100
Main Market: Turkey
Related Products
Hot Dip Galvanized Barbed Wire, Barbed Wire, PVC Coated Gal. Barbed Wire