PVC coated GI Fence Wire
We supply PVC coated GI fence wire systems: PVC coated wire fence (chain link or other mesh structure) +barbed wire+razor wire. PVC coated galvanized iron wire fence system is widely used in perimeter and security fencing. The PVC coated fence and fencing wire offer superior corrosion protection and a longer service life over galvanized fencing wires.
Well Sold PVC Coated GI Fencing Wires for Export
PVC coated galvanized fencing mesh and wire, including but not limited, to the following models: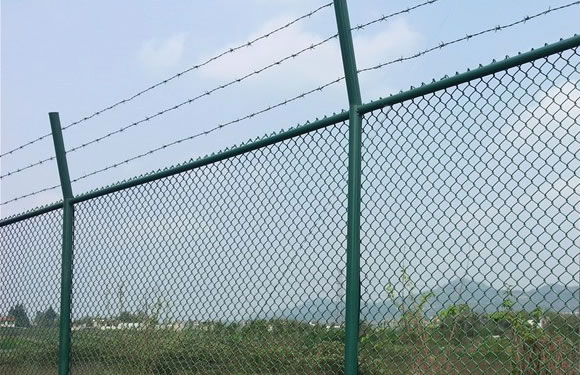 PVC Coated Fence (Chain-link), Low Carbon Wire, hot galvanized, pvc coated, with galvanized steel supports and connections.
Corrosion Protection Finish: RAL 6005 Green
Wire Diameter: 3.0 Mm
Hole Size: 260 X 85mm
Vertical Bars-38mm, Horizontal Bars-25mm
Thickness of Tube: 2.0mm
Fence size: 3500mm x 2000mm
Interconnecting Base Feet
Brace Poles: 38mm
Hard Plastic Sand Filled Base.
The fencing system is suitable push over resistance for the intended application.
Shall be surface laid, modular and quick to erect and dismantle
Enable simple fixing of barbed tape wire material onto the Fence.
Barbed Wire Roll
Electro galvanised fence wire
High-Tensile Fencing Wire, 12.5-Gauge
Electric Galvanized Barbed Wire
Galvanize Razor barbed wire with clip 980mm
BTO-22
Weight 10 KGS
Wire diameter 2.5mm
Zinc coating 40g – 60g
500 rolls
PVC coated Barbed Wire
Specification:
2 twisted wires with 4 spikes, spaced 65 mm - 120 mm apart from each other.
Inside wire: galvanized wire.
PVC coating thickness: 0.4 mm - 0.6 mm.
Twisted wire diameter:
Inside wire diameter: 2.4 mm - 2.6 mm.
Outside wire diameter: 3.0 mm.
Thorns /Barbs wire diameter: 1.5 mm
Package: 250 m, to 400 m/coil or 30-50 kg/coil.
Coated color: RAL 1014 Beige
Coated color: RAL 6005 Green
GI Fence Wire and PVC Coated Fencing Wires
PVC coated GI  Fence Wire 1.6/2.5MM 1" x 1" x 5 x 30-  Dark Green Color
GI Fence Wire 1.6MM 1" x 1" x 5 x30
GI Fence Wire 1.8MM 2" x 2" x 5 x 70
PVC coated GI Fence Wire 1.6/2.5MM 2" x 2" x 5 x 50-  Dark Green Color
GI Barbed Wire 2.5/2.0MM x 100M Roll