Security Fencing Steel Palisade Posts, Panels and Gates
Galvanized Steel Palisade Fencing is the most popular choice for the areas which require high level of security and vandal resistance. The Steel Palisades are used as perimeter fence for protecting schools, industrial sites and different types of premises. Fabricated from hot-formed and cold-rolled steel sections. " D" and "W" sections are popular. Available with bracket extensions for barbed wire or razor wire fencing tops to get maximum boundary protection.

Section Pales
Palisade fencing is made of W section pale or D section pale, with triple pointed pale head, spear head or single pointed top.
W Section Pale:
Thickness in 3 types:
2mm: general purpose
2.5: security
3:special
Pale Head Types of W Section:
1. Triple Pointed Top
2. Single Pointed Top
3.Round top
4.Round and Notched top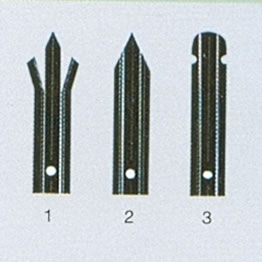 Triple Point, Single Point and Round Notch Top
D section pale:
D section in 3 thickness:
3mm: General purpose
3.5mm: Security purpose
4mm: Special
Pale Heads Types of D section:
Square top
Triple pointed top
Single pointed top
Round top
Round and notched top
Finishes
Galvanized steel;
Polyester powder coated.

Applications
Steel palisade panels find extensive security fencing uses:
*Apartment and buildings protection solutions
*Industrial facilities protection solutions
*Telecom & Mobile tower base station protection solutions
*Airport & harbor protection solutions
*Roads and railways protection solutions
*The border protection solutions
*Military defence and prison protection solutions
Main Market: Europe market, Australia market, South Africa market.
Well Sold Models for Export
Pvc Coated Galvanized Palisade ( Notch Round Top ) for Residential Garden Fencing
Powder Coated Frame Finishing And Fencing Trellis & Gates
Pale: 60mm wide*2mm thickness*2.4m high
Post: 50mm x 50mm x 1.6mm thickness x 2.95m high
Rail: 50mm x 50mm x 4.0mm thickness x 2.5m length (from post center to center)
Bolt: M8 and M12.

Garden Fencing / Back Yard Safety Fencing, panel height:1.2m-3.6m, length: 2.75m, painted in colors yellow, blue, white, dark green, etc.
Triple Pointed Steel Palisades
Triple point steel palisade provides ideal security fencing for most perimeters. Painted in green.

Cold rolled steel pales are attached to horizontal steel rails to form anti climbing fencing trellis.
Palisade Fence with Metal Sliding Gates
Palisade Fence:
W Shape Palisade Pale, 68mm Wide; 75 x 75 x 5mm Thickness H Beam Post
60 mm x 30 mm x 10mm thickness lipped channel; security screw;

Palisade Fence in Hot Dip Galvanized and Painted Finish.
The Top Curve part on palisade pale can also be based on customer standard details to ensure Anti-Climb Feature.

Palisade Metal Sliding Gate to match the Palisade Fence. Gate clear Opening of 6.3M. Gate Operating Mechanism.
Palisade Post Section Types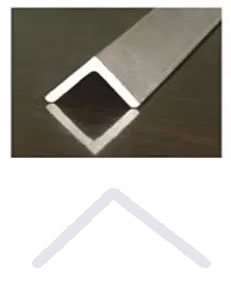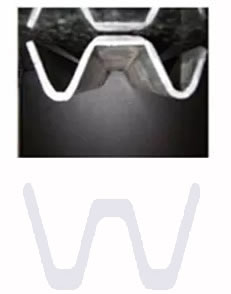 Steel Palisade Specification
Sizes:
| | | | | |
| --- | --- | --- | --- | --- |
| Fence Height | Post Dimensions | Rail Dimensions | Support Legs | Corrugated Steel Palisades |
| 1.2m | 102x44 or 100x55 | 40x40x6mm | 1 | W - 2.0mm or D - 3.0mm |
| 1.5m | 102x44 or 100x55 | 40x40x6mm | 1 | W - 2.0mm or D - 3.0mm |
| 1.8m | 102x44 or 100x55 | 40x40x6mm | 1 | W - 2.0mm or D - 3.0mm |
| 2.0m | 102x44 or 100x55 | 45x45x6mm | 1 | W - 2.0mm or D - 3.0mm |
| 2.1m | 102x44 or 100x55 | 45x45x6mm | 1 | W - 2.0mm or D - 3.0mm |
| 2.4m | 102x44 or 100x55 | 45x45x6mm | 1 | W - 2.0mm or D - 3.0mm |
| 2.7m | 102x44 or 100x55 | 50x50x6mm | 1 | W - 2.0mm or D - 3.0mm |
| 3.0m | 127x76 | 50x50x6mm | 2 | W - 2.5mm or D - 3.5mm |
| 3.6m | 127x76 | 50x50x6mm | 2 | W - 2.5mm or D - 3.5mm |
Configuration Detail:


Standard Configuration Type A
Panel Height
Pales
O/C Spacing
Rails
8
13 ga.
5-15/16"
2" TS x 14 ga.
10
13 ga.
5-15/16"
2" TS x 14 ga.
12
13 ga.
5-15/16"
2" TS x 14 ga.
Standard Configuration Type B

Post

Size: 100 x 55mm/100 x 44mm
Available with base plates for bolt-down or cranked over walls.
Bracket extensions available for barbed wire or razor wire.


Rails

Size: 40mm x 40mm/ 45mm x 45mm/ 50mm x 50mm
Steel angle rails punched for pale attachment.
Connected with 12mm square cup bolts and anti-vandal permacone (snap-off) nuts.

Pale Tops

High security style split-tripple point, or single point.

Safety style rounded, or rounded and notched top.

Fittings

Rails and pales are fitted using rivets & collars, or rounded bolts with permacone nuts (snap-off / anti-vandal).

Connection Plates

Linking the steel rails together.
Steel Fencing Project
Hot Dip Galvanized Steel Palisade Fencing, Razor Wire and Gate - Security Fencing Project in Singapore
Palisade Fencing - W Section Palisade Fence Panels, with Gates, Top Rails and Razor Wire Attachment

80mm W Section Fencing Panel:
Components for Standard 3m Panels consists of:

1) 18 Pales (Single Point) - Standard 80mm W Section x 2.5mm
2) 1 Post Standard (150mm X 100mm X 2.5mm)
3) 2 Standard Rails Channel ( 80mm x 50mm x 2.5mm)
4) 1 Reinforcing Rails Angle 50mm x 50mm x 2.5mm
5) 12 Spacers ( 4 per Rail)
6) 6 M10 Cup Hd Bolt with security shear nut ( 2 per rail )
7) 54 M8 T fencing bolt with security shear nut ( 3 per pale)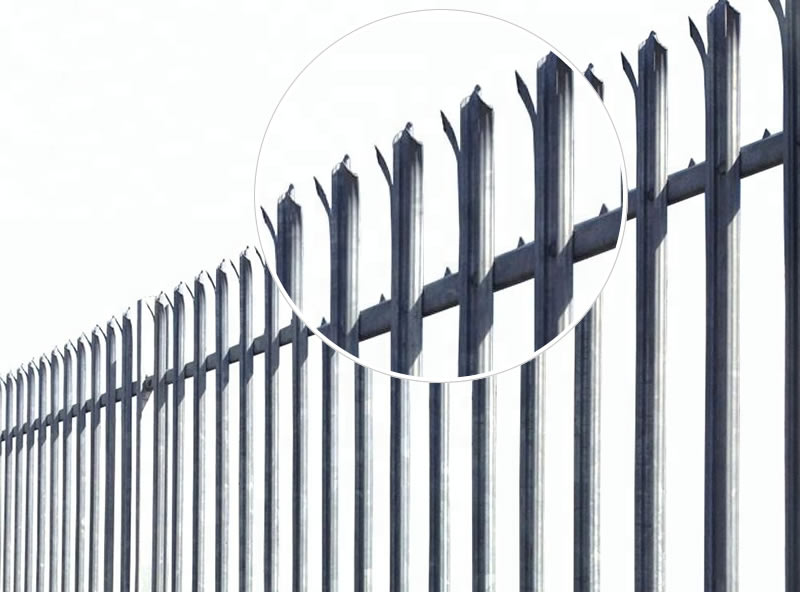 2.75 m panel available, normally consisting of 16 pales.
Steel Palisade Gates Open Both Inwards and Outwards to Exceeed 180 Degree: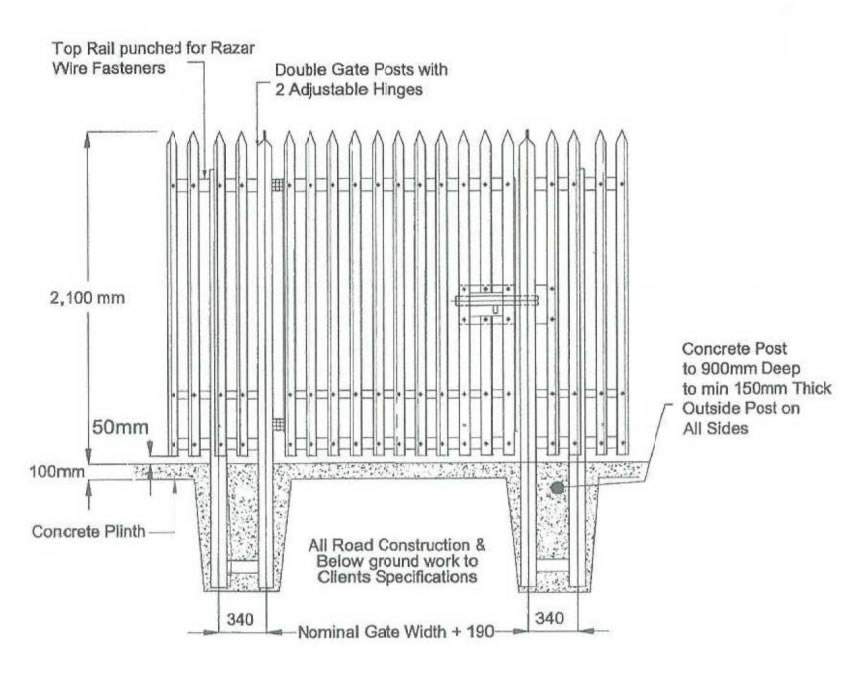 Double Gate Posts, Gate width: 190mm, height 2.4m from top of concrete plinth to top of razor wire, concrete plith is required under all fencing gates. The top rail is punched fro Razor Wire Fasteners.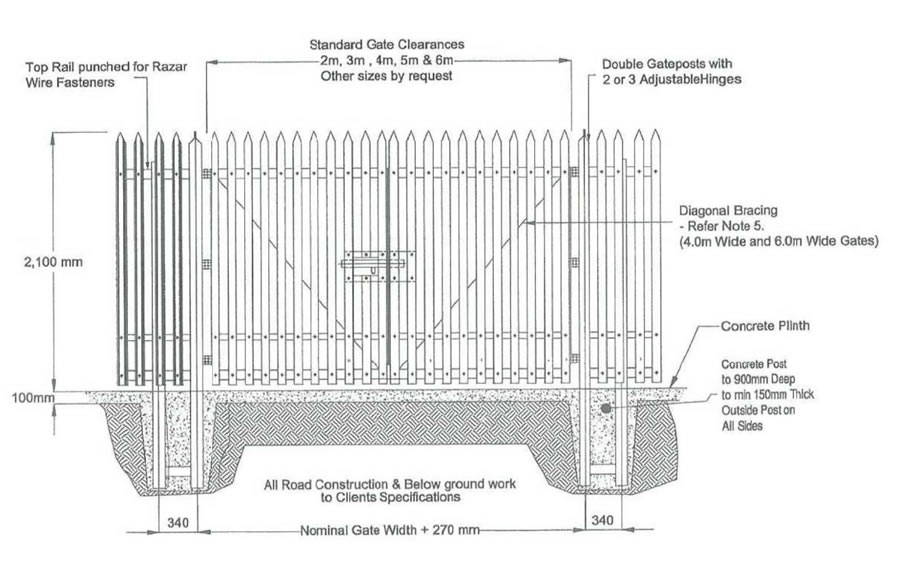 Gate for Security Fencing, Width 270mm, standard gate clearances: 2m, 3m, 4m, 5m and 6m. With diagonal bracing.
PALISADE STEEL FENCING SYSTEM DETAIL SPECIFICATIONS
FENCE PALES
The pales are manufactured from 2.5mm base thickness steel.
80 mm Basic W Profiles.
Test Standard: The pales must not deflect more than 8mm at the moddle point of the span under a test load of 2.5kN for Security Fence (SP).
The top of the Pales is formed with a single point 100mm long and the point is symmetrical.
FENCE RAILS
The fences have 2 rails per panel with 2.5mm base thickness steel for SP Grade.
FENCE POSTS
The Posts is made from a minimum of 3.5mm base thickness steel for SP Grades and 3.5mm or 2.5mm for GP Grades.

Fence Height: 1.8m, 2.1m, 2.4m, 2.7m
Post Footing Depth: 600mm or 900mm
Overall Length: 2.4m, 2.7m, 3m or 3.6m
MATERIALS FOR FENCE PALES, POSTS AND RAILS
The Posts Rails, Pales and Components shall be fabricated from Grade G250 base steel in accordance with AS 1397. or other competent standards.
Hot dip galvanized coating class for the base steel material shall meet Z600 (600g/m2) or other stated standard.
PALE TO RAIL STRENGTH
The Pale to Rail fixing strength shall withstand a load of 12kN for GP Grade Installations and 18kN for SP Grade installations when tested.
FENCE PALE SPACINGS
The palses shall be spaced at 160mm for 80mm pales. 0.20mm more or less. 18 pales per 3m panels.
FASTENERS
Pales are attached to the rails by steel T fencing bolts with tamper resistant shear off security nuts.
All fasteners shall be hot dip galvanized.
RAZOR WIRE ATTACHMENT
For high security purpose, razor wire is attached to the upper rail ( the rail is punched at 160mm). The 600mm diameter Concertina razor wire is clampled to the rail. The clips are galvanized.
Self supporting razor wire or Y post mounting types are available.
FINISHES
All scratches or areas of bare steel of the fencing system shall be treated with thick coating of zinc / galvanizing paint.
Related Products
Razor wire, barbed wire.