high tensile razor barbed Wire FENCING LINES
Razor Type Barbed Wire provides instant reliable and economical security fencing solutions.
It can be set up quickly and easily on top of existing metal steel fences to construct an anti-climbing high security fencing wall for various fields and perimeters.
Also mounted to solid walls, on roof of tops or by itself on the ground to make an effective temporary fencing barrier.
Materials: Hot dipped galvanized steel; stainless steel.
Main export market: Singapore, Australia, Malaysia, European market ( Holland, Belgium, Germany ) and more.

Specify an Order for Razor Blade Barb Wire:
Pls provide following information:
Blade Type
Material
Surface Treatment
Coil Wire Extended Length
Coil Diameter
Blade Length and Width
Well Sold Models
Razor Wire Barbed Tape Fence, Galvanised Steel Finish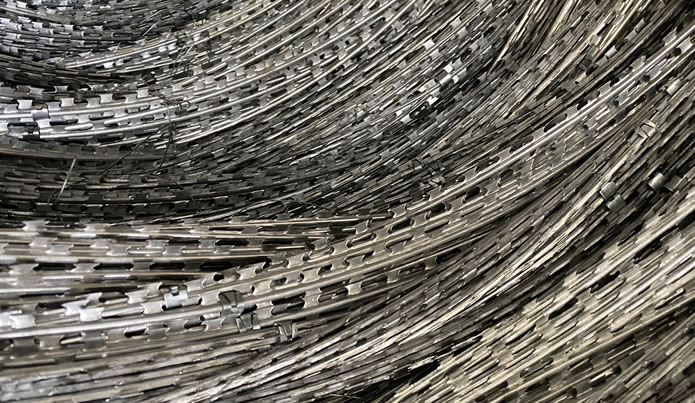 Razor wire barbed tape for ground securing barriers, to improve intrusion prevention in various premises. Used in quick deployment with motorized 3SD trailer. Also called 3SD Razor Wire Fencing.
Supply of Razor Wire Barbed Tape Security Fence, including:
Supply of all ancillary equipment and devices for the installation and ground securing of the Razor Wire Barbed Tape.
Supply of motorised loading and off-loading equipment of Razor Wire Barbed Tape.
Installation of Razor Wire Barbed Tape by expert personnel.
Material and Equipment Specifications:
Razor Wire Barbed Tape, designed to prevent intrusion along perimeter barriers.
Razor Wire is fabricated from high tensile wire (virtually impossible to cut with standard tools) onto which a multitude of razor sharp barbs are formed at close intervals.
The barbs are designed to have a piercing and gripping action.
The wire and strip are constructed from galvanised steel to prevent corrosion.
The fencing is constructed as a Coil Pyramid with Top Support Wire as following drawing reference: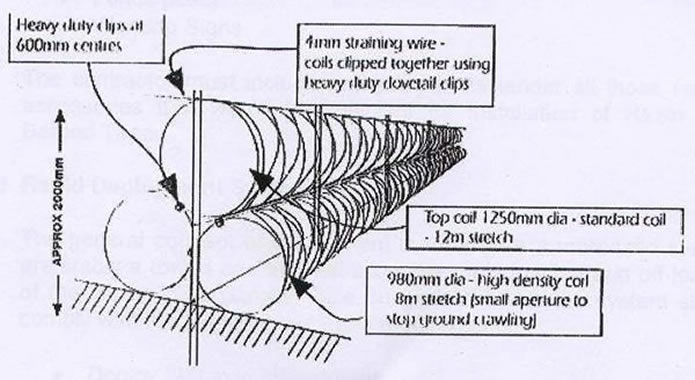 How to use:
The Razor Wire Barbed Tape must be factory packaged to allow a rapid deployment from a motorized trailer.
All three coils of the Razor Wire Barbed Tape must be deployed simultaneously from the trailer, requiring only subsequent ground support and installation of clips to secure individual coils together.
The coils must be preloaded in magazines to allow rapid deployment and must be separated with high tensile anti-tangle strut wires.
The coils are supplied in 75 meter lengths minimum, compressed into compact modules.
The Razor Wire Barbed Tape with size following:
Wire 2.5 mm High Tensile Galvanised Steel Blade and Strip 0.5 mm Galvanised Steel
Configured as following:


Ancillary Equipment for Installation:
We also supply ancillary equipment (fencing accessories) for the deployment and securing of the Razor Wire Barbed Tape on the ground.
The equipment must include the following:
Heavy Duty Dove Tail Clips
Clip Applicators
Heavy Duty Leather Gloves
Bolt Cutters
Ground Locking Pegs
Straining wire
Binding wire
Fence posts
Warning Signs
All fencing accessories are supplied for installation of Razor Wire Barbed Tape.
Rapid Deployment System
The general concept of deployment is to acquire a motorized system, preferably a towed one that will allow the rapid loading and off-loading of the Razor Wire Barbed Tape.
In general terms the system complies with the following minimum requirements:
Deploy 300 m in 30 seconds
Refillable
Approximate weight trailer excluding barrier: 900 kg
Barrier collects with reversing/manual operation
Electric winch barrier compactor
SS BARBED WIRE RAZOR TYPE BTO-18
Stainless steel razor barbed wire, blade BTO-18, supplied in 3 lines, mounted on 3 notches stainless steel arms to carry barb wire razor type for premises and facilities security perimeter fencing.
Stainless steel bracket / single arm crank supplied with fixing accessories.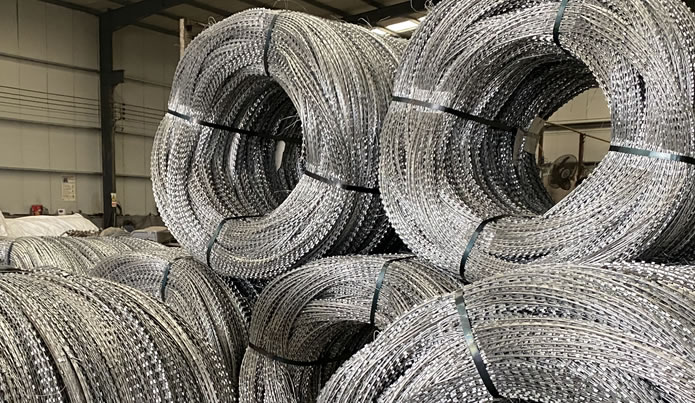 Drawing reference: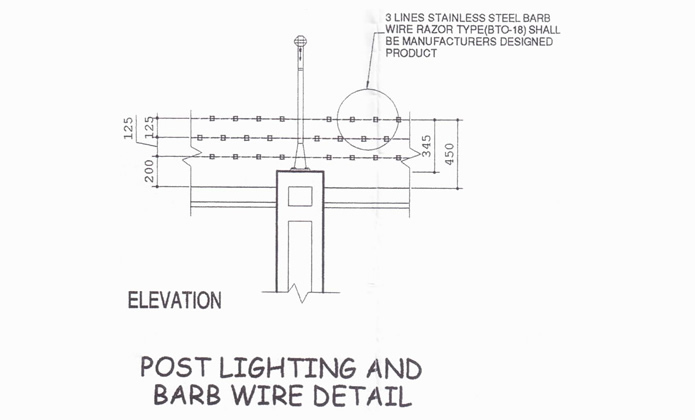 Concertina Razor Barbed Wire Fencing, Heavy Galvanized (Hot Dipped Zinc Coated)
Market: For Malaysia and other countries.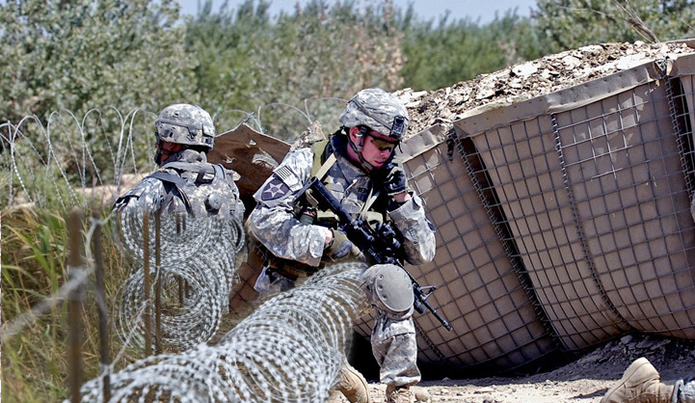 Anti Climbing Concertina Razor Barbed Wire Obstacles, Heavily Galvanised, Long Barbed Wire, CBT-65, Outside Coil Diamter: 450mm, 1 roll x 50m
Razor Barbed Wire Concertina Specification for Airport and Military Uses
Coil Diameter
450 mm (18 inch)
730 mm HS
(28 inch)
730 mm HD
(28 inch)
980 mm HS
(36 inch)
980 mm HD
(36 inch)
1250 mm
(50 inch)
Recom-mended
Stretch Length
10 m
(32 ft.)
10-12 m (32-38 ft.)
15-20 m
(50-76ft.)
10-15 m
(32-50 ft.)
8 m
(26 ft.)
10 m
(32 ft.)
Coil Diameter
When Stretched
400 mm
(16 in)
620 mm
(24 inch)
600 mm
(24 inch)
820 mm
(32 inch)
850 mm
(33 inch)
1150 mm
(46 inch)
Spiral Turns
Per Coil
54 / 55
54 / 55
54 / 55
54 / 55
54 / 55
54 / 55
Clips Per Spiral
3
5
3
5
7
9
Quantity Per 6m/20ft
Shipping Container
3200
1500
1500
1240
1200
450
Note: HS = High Strength; HD = High Density
Razor Blade Barbed Wire for European Market: Holland/Belgium/Germany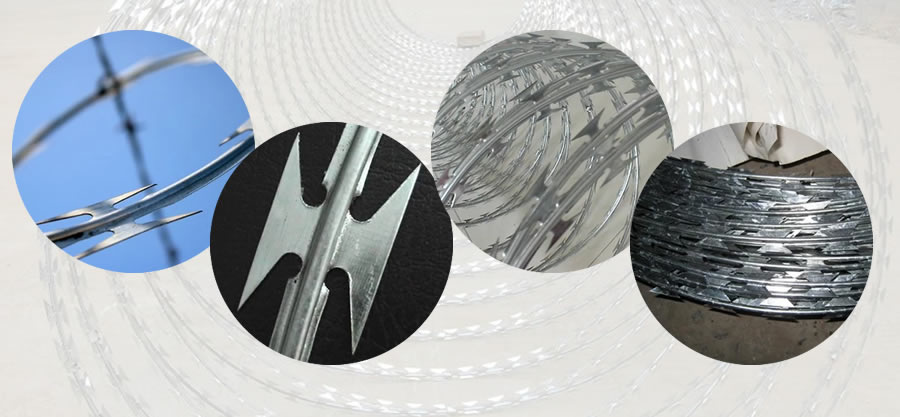 Razor Barb Wire Rolls dia 760 mm/56 cycles - extended length 10-12 mtr/coil steel or galvanised steel.
12.5 gauge or greater barbed wire ASTM A121.
Heavy Duty Razor Barb Wire

Blade Size: 65mm length x 15mm width, in coils, Coil diameter: 900 mm x 14 meter per coil
Material: Hot dip galvanised or ss
Diameter: 2.5mm steel core
Stainless Steel Razor Barbed Wire
316 SS Razor Type Barbed Wire Coils: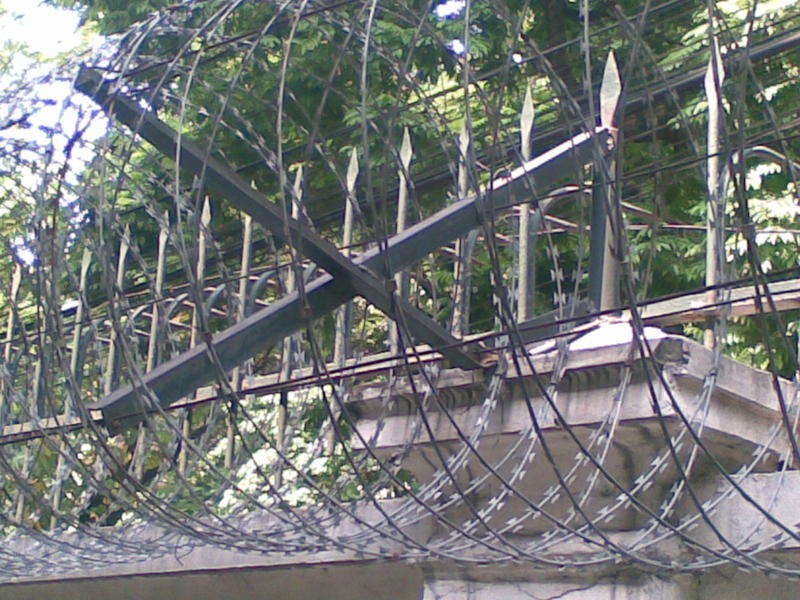 960mm diameter coil at 200mm spacing
Grade 316 to BS 970
Wire Strength = 1500 Mpa
Thickness = 0.5mm
Wire Diameter = 2.5mm
Barb Length = 22mm
Barb Width = 15mm
Barb Spacing = 34mm


Stainless Steel Concertina Barbed Wire (BLADE SIZE 65MM)
Market: Philippines

Stainless Steel Razor Barbed Wire Single Coils, Item Details:
- 700mm OD, 41 Loops, 10M Length, CBT-65 Single Coil;
used with 12x12, Barbs Spacing 3", Galvanized Barbed Wire.
Flat Razor Wire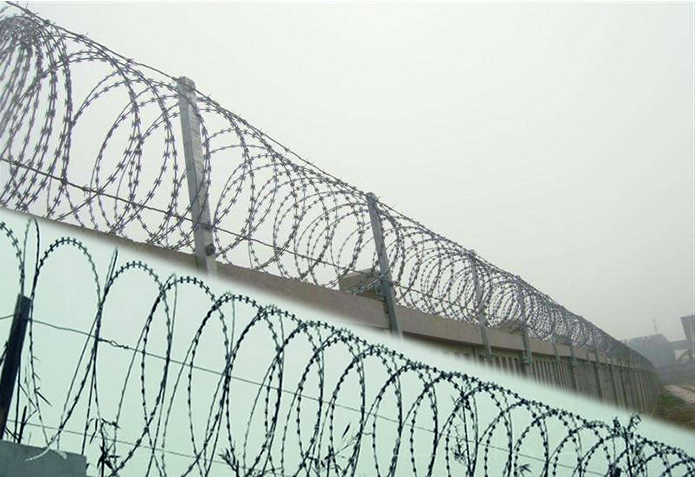 BTO-22 Concertina Barbed Wire Flatwrap Coils, Core wire diameter: 2.5mm, Blade length: 20mm, Blade width: 13mm, Blade space: 35mm
Fencing Projects
Concertina Razor Barbed Wire Fencing supplied as per following details: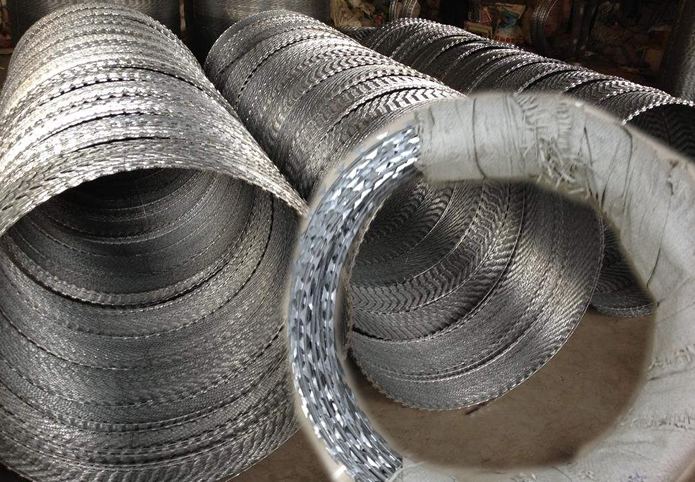 Concertina Razor Blade Barbed Wire Rolls
1. Supplied in rolls
2. Line wire : 25mm diameter +- 2mm made of low carbon spring steel wire and galvanised
3. Barbed wire: 0.6mm +- 0.2mm made of low carbon steel and galvanised
4. Clips : 1.6mm +- 2mm made of low carbon steel
5. Carrying loop : 3.5mm diameter +- 2mm made of low carbon steel and galvanised
6. Coil diameter : minimum 950mm
7. No. of Spiral turns : minimum 79
8. Extended coil length : minimum 10 meter
9. Barb spacing : 38 +- 2mm
10. Barb spacing in Spiral turns : 17mm +- 2mm
11. Barb width : 12mm +- 2mm
12. Razor length : 20mm +- 2mm
13. Packaging : 10 roll/bundle

Mesh Panels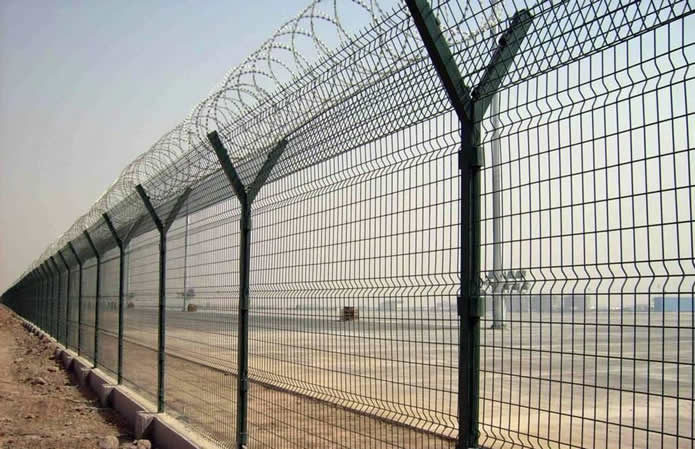 Weld Mesh Modular Fence Panel, with Green Painted Y Post Razor Barbed Wire Coils

Packing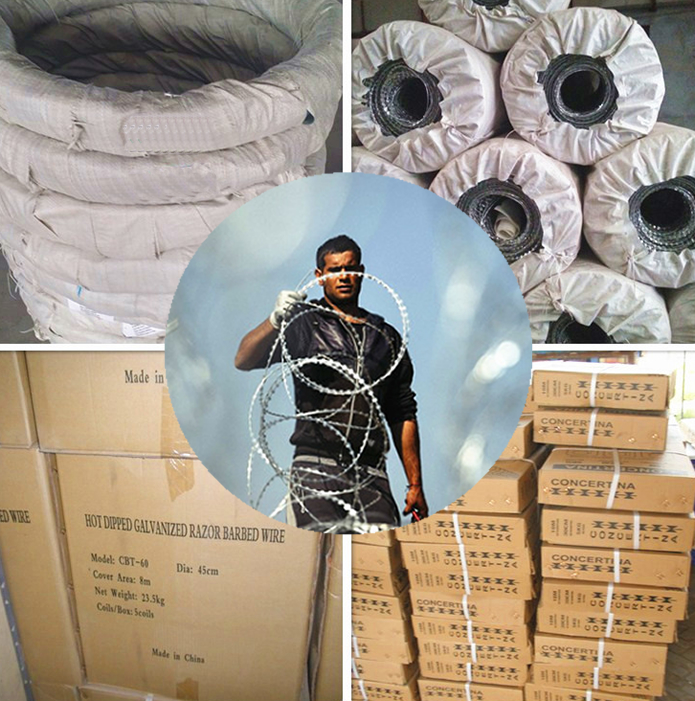 Standard inside paper outside woven bags.
Carton box packing available according to our customer's requirement.
Related Products
Razor wire flat wraps, razor wire welded diamond mesh, various mesh fencing panels.