PVC Coated galvanized IRON Barbed Wire
Plastic coated barbed wire is widely used in safety protection, border and boundary fencing, fencing walls, chain link fencing systems, field fencing and so on. We offer galvanized barbed wire with PE or PVC coating treatment, mostly in green coating. PVC coated barbed wire is normally used with pvc coated mesh panels of the same color to form a fencing system.
Technical Info:
- Core of PVC Coated Barbed Iron Wire can be galvanized iron wire or black annealed iron wire.
- A variety of colors like green, blue, yellow, orange, gray, is available.
- Tensile strength of Standard PVC Coated Barbed Iron Wire is 30-45 kgs./sq.mm.
- Packing: In coil of 25 kilos or 50 kilos net, lined with P.V.C strips, then wrapped with P.V.C or hessian cloth.
Well Sold Models
Barbed Wire Fence for Transmission Line Towers Safety
Supplied to Sri Lanka.
The specification: Barb spacing – 75 mm; Barbed line length 15mm
Supplied in Bundles of Green Colour.
Tubular Steel Posts and Barbed Wire Fixed in Lines for Border Security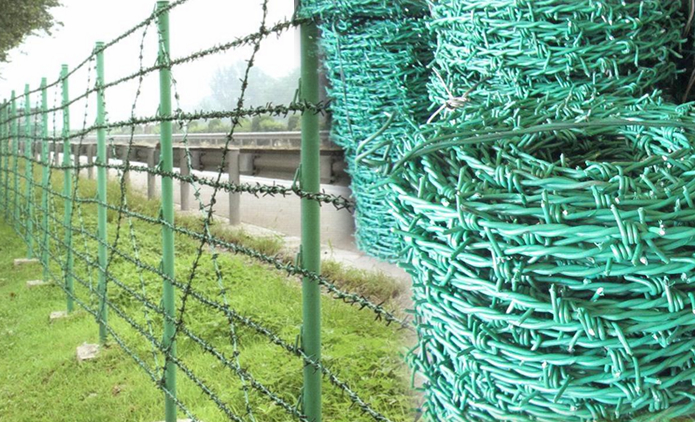 Hot Dipped Galvanized Zinc Pvc Coated Barbed Wire, Double Twist
Hot dipped or electric galvanized zinc pvc coated Wire Barbed, 450 mm coil diameter, 50m roll length, for grassland barrier fence. Traditional Twisted Double Barbed, Wire Gauge 2.0×2.0mm, Barb Spacing 4" to 5", Fixed with PVC Coated Steel Round Pipe Post with Hooks

Galvanised Steel Wire Barbed:
Galvanised steel wire
Double Twist
Barbed spacing 4''
1 roll x 50m
PVC Coated Steel Fencing Y Post Barbed Wire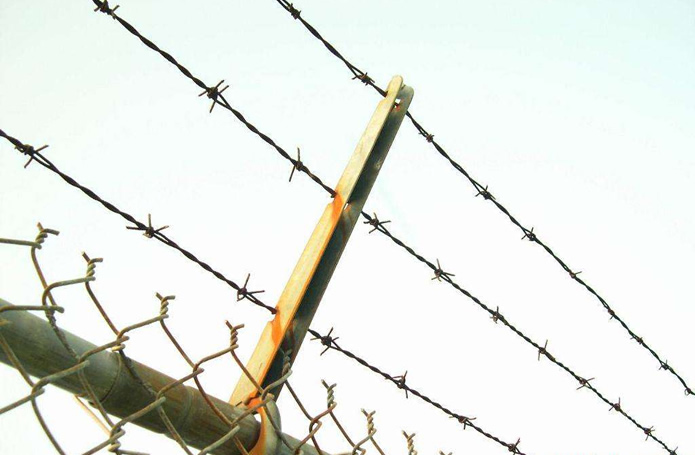 Boundary Security Mesh Fence Post With Barbed Wire: High security double strand type with 4 points, barbs spaced 7.5 cm apart. Barbs are sharp and tightly wrapped, twisted 12.5 gauge line steel wire, uniformly coated with zinc hot dip galvanized in accordance with ASTM A-121 Class3 and also PVC coated in green. Used with chain link netting panels.

Green Painted Expanded Mesh Modular Fencing Panels, with Tubular Posts, Three Lines Green Painted / Coated Barbed Wire Tops
Strand Barbed Wire and Flat Expanded Steel Mesh Fence (Diamond Hole), both green coated: Perimeter Fencing System for schools, residences, etc. Specifications: (-Barbed Wire, Heavily Galvanized 16 GA, (500 CAL.16 2/4/4" coils).
Common Sizes
PE and PVC Coated BARBED WIRE ( 2 strands and 4 points and 3-4-5-6- inches)
Core Wire Diameter
Outside Diameter
1.0mm-3.5mm
BWG.11-20
SWG. 11-20
1.4mm-4.0mm
BWG. 8-17
SWG. 8-17
Note: Thickness of P.V.C. coating layer: 0.4mm-0.6mm
Related Products
Various mesh fences, Y posts, galvanized tying wire.