Straight LINE Welded Mesh Razor Wire
Electro Welded Razor Wire Mesh Panel is a multi-functional high security fencing fabricated from high tensile razor barbed wire. Welded into diamond pattern or square pattern flat panels.
Razor Wire Mesh Fence is almost impossible to climb or cut off with the standard tools, suitable for prison fencing, railway, highway, airport and various facilities protection.
Materials
Hot galvanized sheet and stainless steel sheet 304, or 316;
Galvanized wire electro galvanized, hot dipped galvanized, or pvc coated galvanized.
Mesh Specifications
Square Hole Size: 100mmx100mm, 150mmx150mm, 200mmx200mm
Diamond Hole Size: 75mmx150mm, 100mmx200mm, 150mmx300mm.
Well Sold Mesh Razor Wire Models
Galvanized Straight Line Welded Razor Wire

1. Material:Q195 Q235
2. Wire diameter:1.2-3.2mm
3. Barbs space:7.5-15cm
4.Surface: Galvanized, or Galv. Hot Dipped Zinc Plating.
5. Mesh Type: Diamond Opening

Hot-dipped Galvanized Welded Straight Razor Barbed Wire Mesh BTO-22 75x150mm, Diamond Mesh Fencing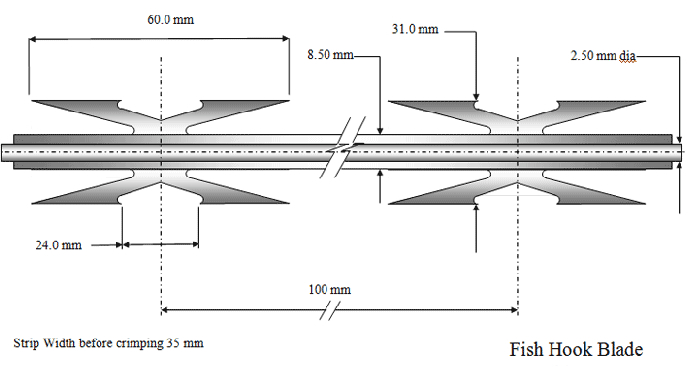 CBT 60 Razor Wire Before Welding
Square Hole Welded Mesh of Razor Blades
Square Hole Size: 100mmx100mm, 150mmx150mm, 200mmx200mm

Galvanized Razor Wire Welded Netting, Flat Window Guarding Trellis, Hole Size 150 x 150 mm
PVC Coated Galv. Diamond Mesh for Perimeter Protection Fences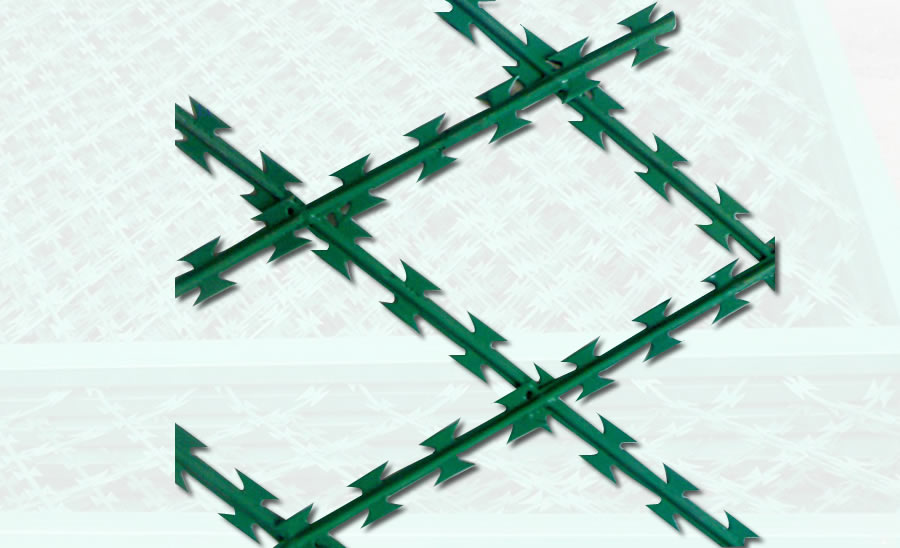 Concertina Razor Barbed Wire Welded into Diamond Mesh Panels, Galvanized and PVC Coated : BTO 18, 100 x 200 MM

Description:
Galvanized welded razor wire mesh
Holes: Diamond mesh
Thickness: 0.5mm
Wire diameter: 2.50mm
Blade length: 300mm
Blade width: 180mm
Blade spacing: 451mm
Finish: Galvanized steel strip or stainless steel with cut blades
Tensile strength of the wire: 1500 N/ square millimeter
Finishing color: PVC coated cross razor wire coil (Color "Chocolate coffee" to match with existing color of steel balustrades forming the existing perimeter)
Security Grade: Prison fencing.
Related Products
Razor wire.